FERRYHILL METHODIST CHURCH
Chapel Terrace, Ferryhill, Co. Durham. DL17 8JL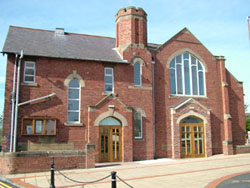 Ferryhill is situated just off the A167 between Durham and Darlington.
The Methodist Church is almost 'back to back' with the Town Hall at the end of the Market Place.
Ferryhill fellowship warmly welcomes you to church on Easter Day and then fortnightly
SUNDAY SERVICES:
• Morning: 10.00a.m.
• Evening: 6.00p.m.
Covid guidelines in place


Please contact either:
Or The Circuit Office: Tel. 07725 762040
For information about the church contact:
Ann Bower 01740 621090 or Brenda Simpson 07710 748239