WILLINGTON METHODIST CHURCH
Wesley Street, Willington. DL15 0AG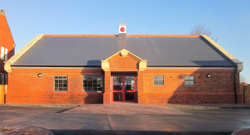 Willington is situated on the A690 between Durham and Crook.
The church serving the community is signposted on the main street; turn off near the Co op.
Willington Open Door Church warmly welcomes you to our church
Faith and Prayer:- we are always available to offer prayers in person or you can request to arrange a call if you would like to explore your faith with us.
Sunday Services 10.30am (Circuit Service - see the plan)
EcoChurch - the church has been the Silver Award
Grace and Flavour Cafe Monday- Friday 8.30am -2.30pm
Our Confident Communirty Wednesday Drop-in 10.45-2.45pm Friday by appointment - On offer- friendly welcome, computer use (30mins max), courses, help and advice with benefits, form filling, volunteering opportunities, emotional support and well being, money advice, cookery and personal enrichment opportunities
Walking Group - Fridays meet at Willington Library and Mondays meets at the Church - 9.30 The walks last no more than 2hrs and covering up to 3.5miles. Meet new friends while seeing nature, learn about local history with a qualified walk leader and guide
Together
Last Saturday of the month
5.30- 6.15pm
45 mins shared creative worship with a shared meal afterwards (6:15-7:00), for those who want to join us
Fareshare -open to everyone Wed and Fri 12.30-1.30 Please order before 11.30am - this project saves food going into landfill
Foodbank operates 12.30-2.30 on Wednesdays
Please contact; Rev. Bruce Sawyer.